Project 01

Activation of intestinal muscularis macrophages and its influence on postoperative ileus
Study group Wehner/Kalff
Department of Surgery
Sigmund-Freud-Str. 25 l 53105 Bonn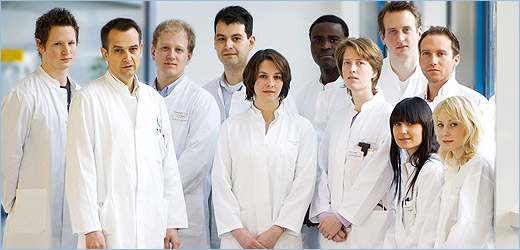 ---
Postoperative ileus is a common complication after abdominal and also extraabdominal surgery, resulting in increased morbidity and hospital stay as well as financial costs.
A local inflammatory reaction within the intestinal muscularis has been proven as an underlying pathomechanism in animal models and in the human situation. Previously, we were able to demonstrate that intestinal manipulation leads to activation of the dense network of resident intestinal macrophages within the smooth muscle, followed by a massive recruitment of various leukocytes into the muscularis resulting in inhibited smooth muscle function. Various mediators have been shown to be involved in this inflammatory cascade. The aim of this study is to determine the initial steps that catalyse the downstream inflammatory process. Three hypotheses will be investigated: a) Muscularis macrophages play a role in the orchestration of the subsequent inflammatory process; b) The initial activation of the macrophages is mediated through stress sensitive receptors; c) Locally released kinetic-active substances trigger the initial inhibition of intestinal smooth muscle dysfunction.
A standardized surgical rodent model of intestinal manipulation, cell culture and co culture experiments and human operative samples are used to analyse the role of the dense network of intestinal muscularis macrophages in the induction of the local inflammatory reaction and the production or release of kinetic-active substances.
---
Our fields of activity
Postoperative Pathophysiologie
Darmmotilitätsstörungen
Makrophagenaktivierung
Immunologie des Darmes
Entzündungsvorgänge des Darmes
Intestinale Wndheilung
---